Northern Supply
Welcome to Northern Supply...
Northern Supply offers a complete line of pigeon products to meet the needs of all aspects of the fancy. Whether you race, show, fly competitively or are a backyard hobbyist, we have everything you need to maximize the pleasure and rewards of the pigeon fancy. If you have any questions or would like to place an order, please feel free to contact us. Thank you for visiting our site.
PRODUCTS
Northern Supply provides a varied inventory of supplies ranging from seamless bands, clip on marker bands, fountains, feeders, grit holders, nest bowls, nest fronts, plastic eggs, medications & health aids. You may access our catalogue, which features illustrations, prices and specifications, through the main menu.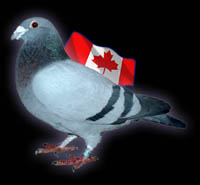 We also create digital portraits of all breeds of domesticated pigeons. This is a great way to showcase your champion bird. Contact us for details
CONTACT
Please contact us regarding shipping costs, prior to placing an order. To place an order, please include the item #, cost per item, shipping fee and taxes if applicable. Ontario residents add 8% PST. All orders are shipped same day via Canada Post or UPS. Payment by cheque or money order only. All prices are Canadian Dollar (CAD). Contact information may be accessed through the main menu.
© 2007 Northern Supply